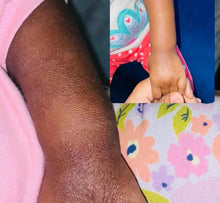 Soothing Eczema Body Butter
Is eczema holding you back from living life the fullest? The pain and embarrassment that can come with this frustrating condition do not have to last forever! Our Soothing Eczema Body Butter provides amazing relief from the very first application.
Each of our whipped body butters are handcrafted in small batches to ensure the highest quality. Made with all-natural, organic ingredients, your skin will feel immediate hydration. Shea butter, Cupuacu butter, and Babassu butter variations are all ready for your enjoyment.
Soothe the dry, red and itchy skin that is plaguing you with pure nourishment! Without animal testing or harsh chemicals, you can finally find relief without sacrificing in the areas that matter to you.
Key Benefits:
Locks in moisture all day.
Creates a barrier against free radicals.
Anti-inflammatory to soothe irritation.
Helps treat blemishes and other marks on the skin.
Includes antioxidants to reduce signs of aging.
Ingredients: Organic Shea Butter, Organic Capuacu Butter, Organic Babassu Butter, Organic Oat Oil, Rosehip Oil, Organic Olive, Organic Sunflower Oil, Organic Neem Oil, Vitamin E Oil, Organic Neem Powder, Organic Tea Tree and other Organic Essential Oil Blend*
Directions: For best results after shower or bath, gently apply twice daily on damp skin or as needed.