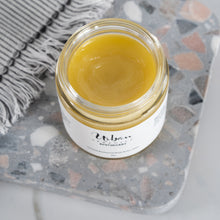 Sensual Rosewood Body Butter Balm
Rich, creamy and invigorating, this buttery body balm has been infused with a simulative blend of rosemary extract, clove oil and ylang ylang. Shown to possess antiseptic and antibacterial properties, rosewood extract softens scar tissue and speeds up healing of wounds to promote a more even skin tone from head to toe. (4oz.)
Ingredients
Organic Jojoba Oil, Organic Unrefined Shea Butter, Organic Argan Oil, Organic Coconut Oil, Organic Beeswax, Non-GMO Mixed Tocopherols or Rosemary Extract, Organic and Wildcrafted Essential Oil Blend.
*** Rosewood is currently an endangered species. Rosewood essential oil is not used to formulate this product. Organic and wildcrafted essential oils are used to achieve an aroma that resembles the precious Rosewood oil. ***
Directions
After a relaxing bath or shower, massage this body butter balm onto skin. Apply daily or as needed.
Caring for your product
*To extend the shelf life of your product, store container in a cool, dry, and dark place away from moisture. Direct light and moisture will reduce the effectiveness and the shelf life of the product*