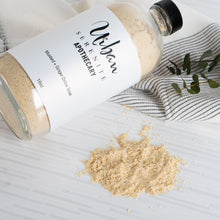 Mustard + Ginger Detox Soak
Featuring a revitalizing blend of ginger and mustard, this therapeutic warming bath treatment is just what you need to soak away the sniffles, fight fatigue, sore muscles and clear up congestion. Designed to ward off viruses that cause common colds, the detoxifying mix also helps boost circulation and relaxes the body to relieve tension due to stress, migraines or insomnia.
 Ingredients
Baking soda, Organic Mustard Seed Powder, Organic Ginger Root Powder, Epson Salt and Organic Essential Oil Blends
Directions
Add desired amount to warm running water prior to getting in. Soak for 20 minutes. Take a moment to re-calibrate and enjoy the aroma of evaporating essential oil blends
**Precautions**
Do not use while pregnant or think you are pregnant, hypertensive, diabetic or history of heart disease.
Caring for your product

*To avoid clump up and extend the shelf life of your product, store container in a cool, dark and dry place away from moisture. Direct light and moisture will reduce the effectiveness and the shelf life of the product*