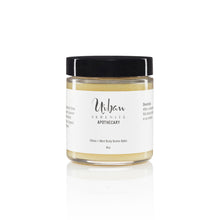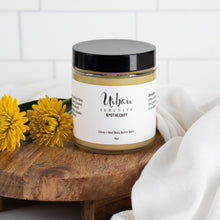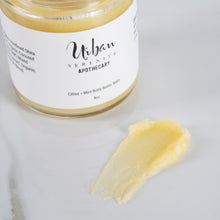 Citrus + Mint Body Butter Balm
Minty and fresh, the herbal scent of this buttery body balm is naturally energizing. Cleansing, brightening and detoxifying, citrus oils help promote clarity and even out the skin tone. Shown to cool the senses and reduce stress but also heal damaged skin, a blend of rosemary and peppermint top things off. (4oz.)
Ingredients
 Organic Jojoba Oil, Organic Unrefined Shea Butter, Organic Argan Oil, Organic Coconut Oil, Organic Beeswax, Non-GMO Mixed Tocopherols or Rosemary Extract, Organic and Wildcrafted Essential Oil Blend.
 Caution
Do not use on skin that might be exposed to the sun.
Directions
After a relaxing bath or shower, massage this body butter balm onto skin. Apply daily or as needed.
 Caring for your product
*To extend the shelf life of your product, store container in a cool, dry, and dark place away from moisture. Direct light and moisture will reduce the effectiveness and the shelf life of the product*
 Ingredients
 Organic Jojoba Oil, Organic Unrefined Shea Butter, Organic Argan Oil, Organic Coconut Oil, Organic Beeswax, Non-GMO Mixed Tocopherols or Rosemary Extract, Organic and Wildcrafted Essential Oil Blend