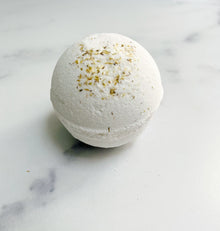 Take relaxation to the next level with these all-natural Chamomile Bath Bombs. This rejuvenating blend of high-quality ingredients creates the ultimate calming sensation as you wash away the stress of a long day.
Your body needs time to recharge, so why not treat it to a luxurious experience you can feel good about? Made without using steroids, fillers, or preservatives, and never tested on animals, you can be confident when dropping one of these fabulous bath bombs into your next soak.
Enjoy a tub filled with amazing aromas and let your body absorb the incredible benefits that come with each of these one-of-a-kind Chamomile Bath Bombs.
Key Benefits:
Soothing on irritated skin.
Reduces redness all over.
Antibacterial for minimizing scars.
Soothes muscle aches and pains.
Perfect for sensitive skin.
Ingredients
Plant based colorant, citric acid, sea salt, baking soda, organic chamomile flowers and essential oils.